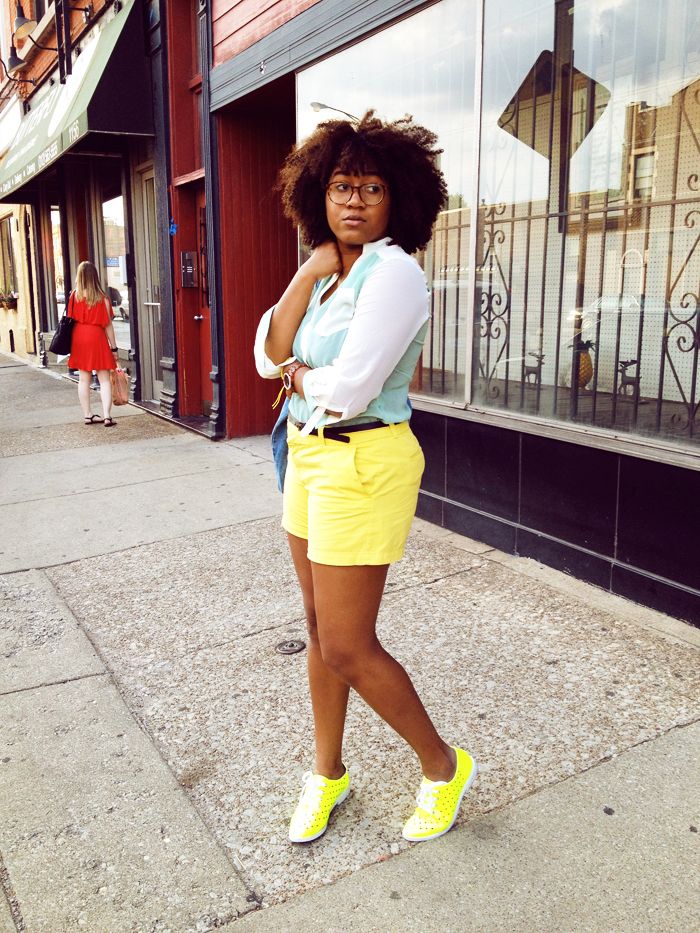 minty chffon blouse:
lush
yellow shorts:
ann taylor loft
polkadot tote:
c/o madewell
yellow heart cutout shoes:
c/o bait footwear
yellow rope bracelet:
mexico
I've been wanting to try this combo ever since I saw Victoria from
Style Marmalade
put these colors together. My mind immediately went...mint lemonade...the perfect easy breezy summer combo for such a hot weekend. I want to start by just saying that I loooooove these shorts. It's so hard to find shorts that fit.. all of me. I'm not bold enough to wear what my southern family would so kindly refer to as "booty coolers" with my buttocks hanging from the bottom. Nor do I need to look like grandmere all the time with shorts down to my knees. (not saying I don't love granny shorts...CUZ I DO!)I was absolutely thrilled when I found these guys. Especially since I spotted an equally thick legged girl on the subway with the green version of these shorts and for WEEKS have I've been trying to figure out where she got them. They just fit....so good.
In effort to not look like a 12 year old at summer camp I opted not to wear a tank with these shorty shorts...I actually don't mind wearing something that covers my arms and allows the air to breathe through. Everyone loved this combo, my mom, dave, people on the street! I just felt so effortless. But to add that extra BLARGH to my look, these shoes that
bait footwear
sent me really made this combo just....wonderful. Perfect look for just the perfect weekend I had. Just what I needed after my first week of the new job! (which I love btw!) I really have been sighing all day because this weekend was just....perfect! I mean indie comic faire, sushi, sleeping in the park on a breezy night, followed by a 2 am run for chocolate cake? Like I said...it was just perfect.