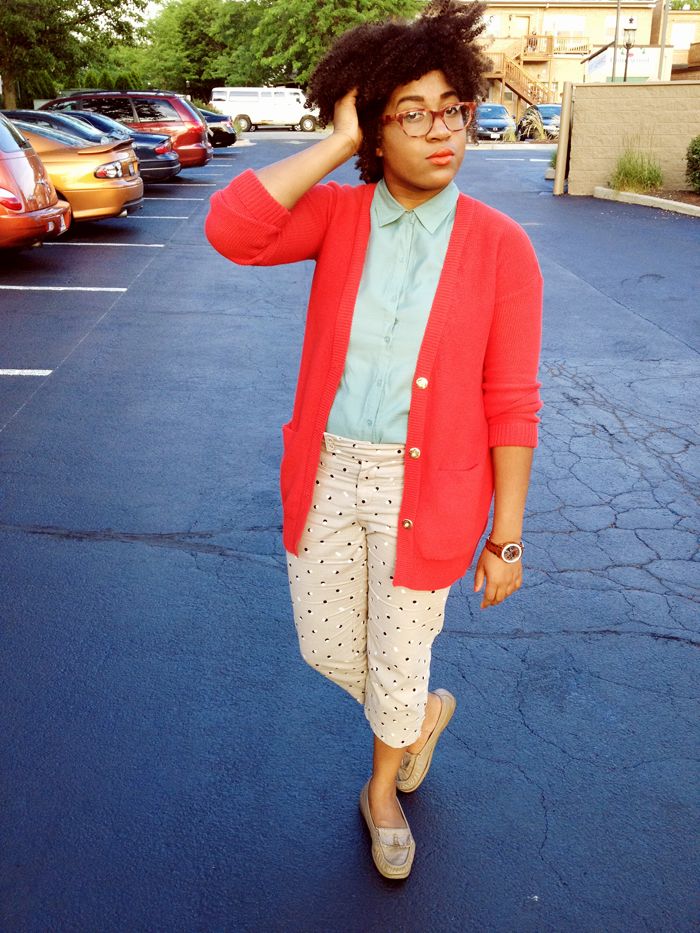 mint blouse (ITS A STAPLE):
need supply
your cooler grandpa sweater:
madewell
grandma shoes:
vintage
polkadot tote: c/o
madewell
polkadot cropped pants:
loft
Nothing like getting that last bit of sun at the end of the day. Working full time has made me appreciate my loved ones and all I ever want to do is to rush home and be with them after work.
On this particular day it was a bit cool which made dressing a little easier than its been this week. How do you stay snazzy in this heat? HOW?
So far I've found dressing for work a fun challenge trying to stay avant without going full blargh..haha. I feel like wearing bold colors and prints but with a polished fit and classic cuts allows you to get away with a more daring look in the office. I was really proud of this look I felt so...me! So far this week the only thing I've felt is the sun...and boy is it hot. Its difficult keeping up my integrity and getting up at 6 am, all while being drenched in sweat...i looked towards my working bloggers like
Jenny
and
Erin
for office inspo! Also brands like Madewell and J.Crew make it easy but I still don't want to look like I stepped out of a catalog...gotta keep my flair! If you guys want to share any tips I'll be more than grateful...especially in this heat. Stay hydrated guys!