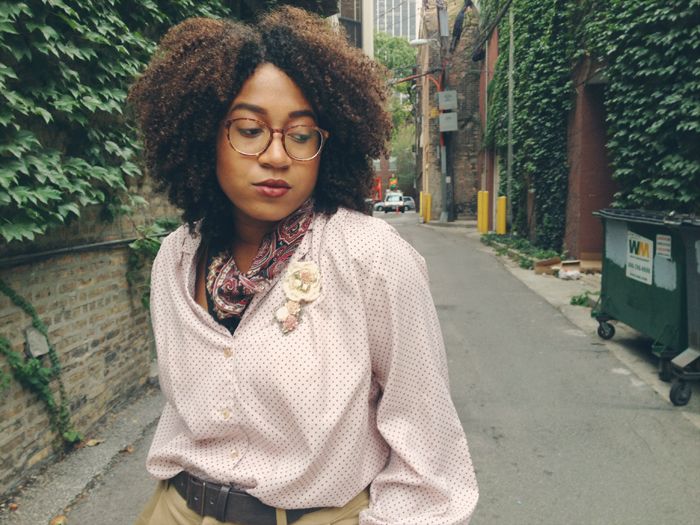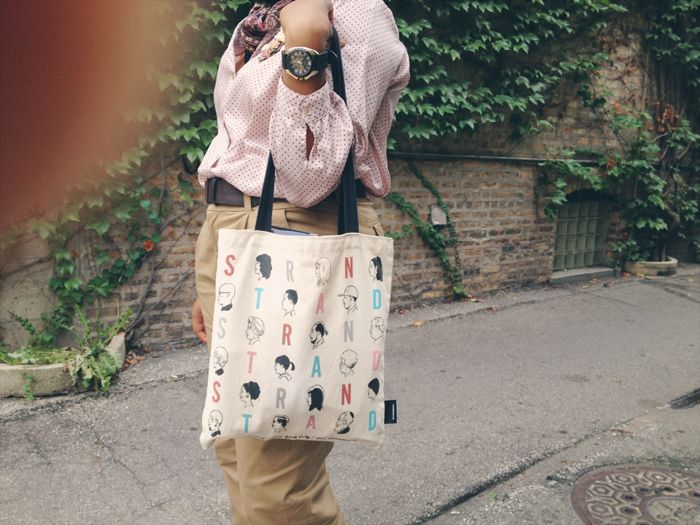 blouse:
vintage
belt:
h&m
trousers:
french connection
(yes I bought them in ALL COLOURS)
scarf:
found
brooches:
thrifted
loafers:
f21
tote:
Strand Bookstore
No one knows how happy I am that it's fall. I can finally start layering, dressing the way I want to dress, and wear muted colors without looking like a plumb fool! I'm also finding more delight in putting together the little details in my outfits, from brooches to scarves...expect to see a lot of them. I bought this shirt at a vintage sale during 2nd fridays in Pilsen. It's already been placed in immediate rotation. I love the oversized slinky fit. Yet I don't look like I'm drowning in it. If you live in the city you should definitely check out 2nd Fridays. Its a 3 block long open gallery session. You get to rub elbows with some of Chicago greatest indie artists, and there's also free food and wine. So on those words alone you should already be planning to come in October. I lived in that area for nearly 6 years and this is the first time I've gone. Expect me to be a regular there from now on.
PS...Speaking of vintage and sales, I'll be selling some of my greatest vintage finds this Sat + Sun from 10-6 at the
Randolph Street Market,
more details on that tomorrow!