I've slowly been getting out of my funk, its taking longer than usual. I think it slightly has to do with cabin fever. NEEDS TO GET OUTS DA HAUUS, i might go exploring today. 'Tis tuesday and the MCA has its free day today...we'll see, i'm not dressed for the museum. Do you still "get dressed" to go places these days? I do, maybe its my french and/or southern upbringing, but some places you don't go looking like a hot mess, and a mess of hotness I am today. So i think I'll make an effort to go to the Art Institute on Thursday...
Music has definitely been my vice this week. Music and films. I rarely take time for myself to do absolutely nothing. I always feel like I'm working, whether it be personal projects or at work work. I rarely have time to paint my nails. So I took time to watch Whip It again. I really like that movie. It made me cry. Movies about mother daughter relationships always make me cry because as much as your mom makes you outraged, you'd do anything for her.
Not all has been "bad" or "sad" or "meh" I did get new shoes. I really needed new shoes, desperately. The steve madden combat boots i have had are dying dying.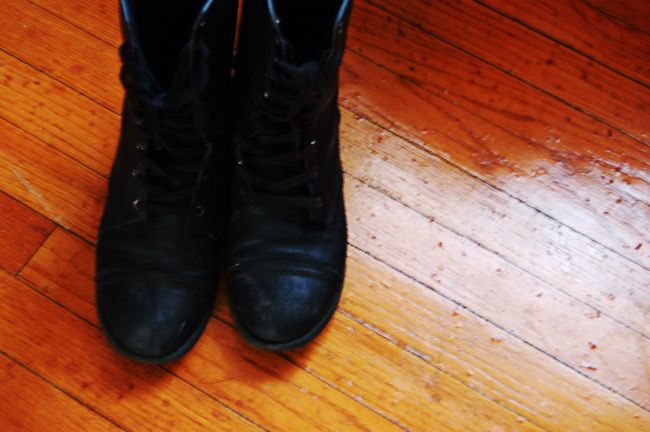 They have wholes in the bottom, and etc. They aren't talking but something happened to the bottom where it makes my arch of my right foot numb. IDK...so new shoes it is!
Luckily I found these bastards at UO for $20, not bad for real suede, they are one of my favorite colours (oatmeal) and have that tomboyish look. They did have them in magenta which the old me would have liked but this new me was like "too loud" and I want something to go with all my coordinates. I cannot wait to wear them with my knee highs scrunched down (sorta like this look in VIVI 3/2011)
I need to suede prep them before I really wear them, so in the meantime I've been wearing another pair of torn boots that don't at least hurt my feet. I hope these new ones will last until the big snow fall of 2012. I want some really nice leather boots, but I don't have enough money to drop for it right now, so these are a great shoe for the meantime, and they are kinda springy as well.
I think so
.... (my mom would disagree.....)
ps. i believe its time of a new mixtape. full of beach house cause beach house is perfect escaping music.