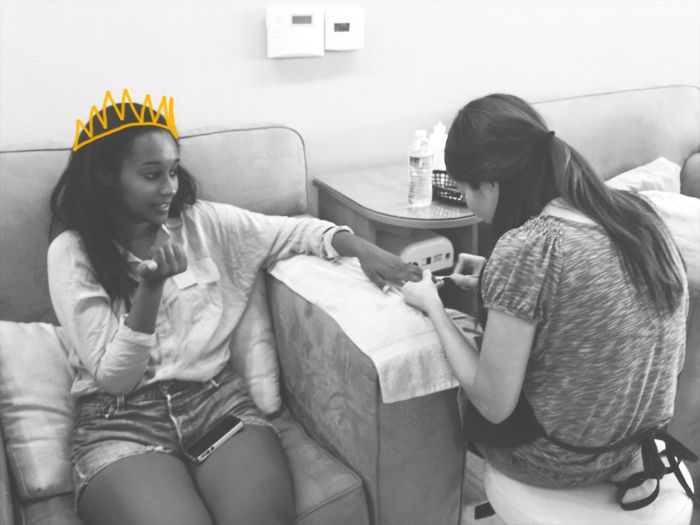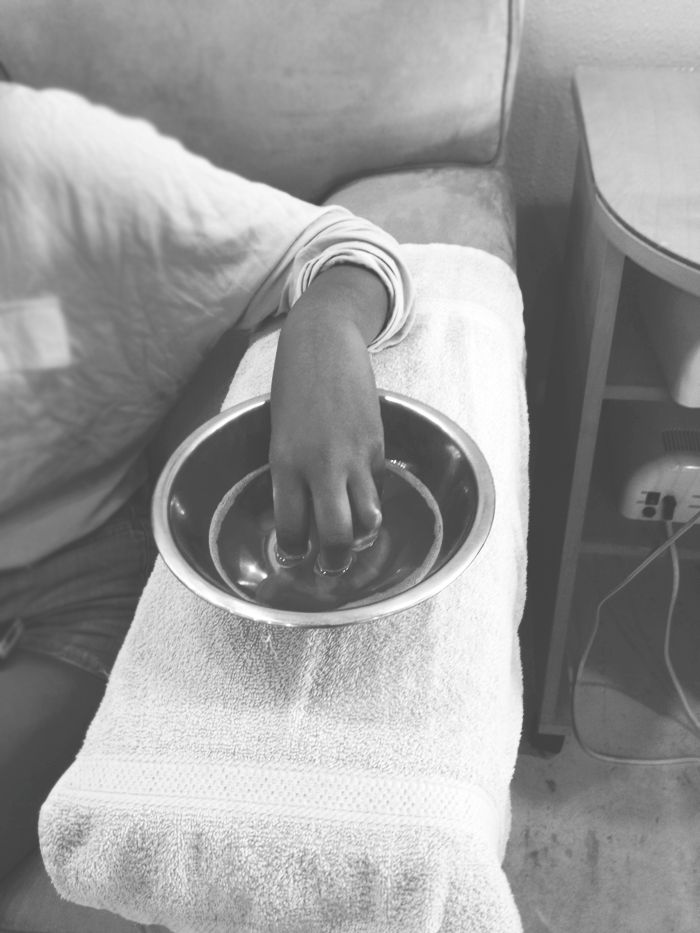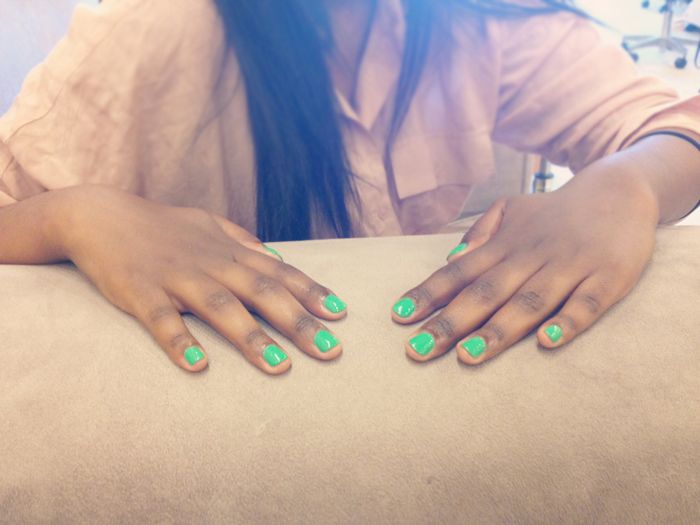 (photos by
Hermela Nadew
)
Greetings from SoCal! I'm honored to have this guest appearance on AVANT BLARGH. Since my great friend Bianca couldn't be in Cali (she's out in the real world, paper chasin'), she offered up this opportunity to her good ol' friend (me!). I got to go to Bellacures, this amazing nail salon that has locations scattered all over Los Angeles and it's surrounding areas. As a relapsing nail-biter, the Lord, and Bianca, knew how much I needed this!
I went to the Newport Beach location, which is found on the picturesque Balboa Island. As soon as I walked in, I was greeted by two of Bellacures very own, Bree and Taylor. While the fourth of July is steadily approaching, I decided to show my patriotism through rebellion (this nation was founded by rebels right?!). These ladies really knew their colors! Taylor found this amazing green that I'm absolutely in love with. Not only did they help me and the other customers with picking out fun polishes, but they gave great input on nail styling.
As I slumped into my cozy arm-chair, listening to tunes sneaking out of the speakers with Tammy, my manicurist, by my side, I couldn't help but marvel and the atmosphere that this salon had created. It was a fun place to hang out, let alone get a great manicure! With such a knowledgeable and friendly staff, a relaxing atmosphere, and a beautiful space, I'll definitely come back to visit. Here's a link to check out their site for inquiries, appointments, etc.
http://bit.ly/Le1DRd
B, while I do miss you and wish you could be in Cali with me, this really did work out in my favor ☺
-Hermela Nadew
(( Hermela is one of my best friends who unfortunately lives in SoCal :D She's an amazing writer and one of the funniest people I know. I'm so happy I was able to have a spa day with her, many miles away! Thanks
Bellacures
!
ALSO JUST IN TIME FOR THE HOLIDAYS
Bellacures
is having a Facebook Summer
Special and Giveaway Contest
From
July 1st - July 7th
, Bellacures wants to find out who has the most patriotic spirit for the 4th of July
1. Use Facebook or Foursquare Check-in at your Local Bellacures to receive an INSTANT Discount on your service of 10% or $20 off a spicy manicure and pedicure special at any
Bellacures
salon
2. Get either a Red, White or Blue mani/pedi or whatever you like that will show your patriotic spirit
3. Post your picture up on your Facebook wall with the caption that AVANT BLARGH sent you on Facebook and email your photo to info@buzzsmith.com.
4. Ask your friends to vote on your photo on your Facebook wall.
The reader with the most LIKES of all the submitted photos will win a mani pedi combo at any Bellacures with their favorite blogger of their choice.
Good luck everyone and happy fourth!! ))