I was finally able to buy a new makeup kit here in nyc. I was desperately waiting for some $$ before i got what i needed to supplement what i already had. I was wearing some mary kay foundation but it was getting a little heavy for this summer weather so i opted for something lighter..w/o it being tinted moisturizer thats always a disaster :'( anyway heres my classic make up bag..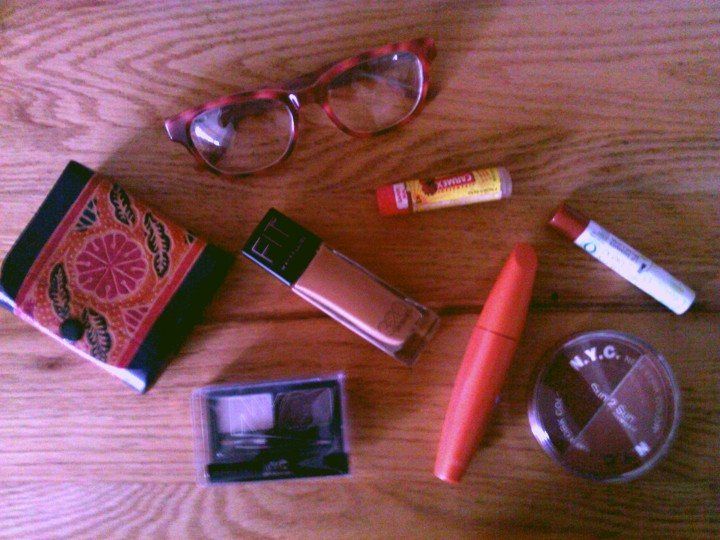 1. FIT ME foundation by maybeline, i like it so far and it fits my obviously difficult skin tone...too light to wear "black" makeup..too dark to wear any shade before the designated "blk ppl" colours...i like it so far..for xtra coverage and to fix my natural "sleepy eyes" i wear clinique concealer ( not shown)
2. Carmex...got to keep my lips soft...i usually put it on after the shower with my facial lotion
3. NYC eyebrow kit....I SUPER LURV THIS!!! Lyke it totally my go to thing. I love classic brooke shields natural brows...and to kept mine look fit and not frightening i use this kit. Comes with all you need, but keep it easy, AND BLEND or youll be lookin like a drag
4. Covergirl lash blast...i heard its like a make up artists best kept secret, and when i went to the pharmacy they were almost sold out! You know NY girls have great secrets...its by far one of my fave mascaras and you cant beat the price. I cant commit to designer mascara and i dont want my eyeballs to fall out trying stuff @sephora. I did break down and by some dollywink once but it was a little too rich for my blood :|
5. NYC bronzer....i prefer bronzer to blush cause i like to contour my non existent cheekbones ..plus the gold undertones do wonders for my natural gloooo...
6. Wet and Wild natural shimmer....americas best kept secret at one buck a pop it keeps the hippie in me calm, and the bargain hunter happy since it beats the price of burt bees shimmers...plus they are all natural and can build the perfect tint from a stain to a bold lip.
7. Thats just an African compact that holds my lipsticks and has a mirror...
8..ish...i thought my glasses completed the composition :P
What are your faves? Are you a quality cheapskate like me..or a designer diva. Or like all of us..you just use WHAT WORKS as you can also see im toned down makeup wise...i prefer to make clothing statements and keep everything else at a minimum..give and take..
Ps are eyelash curlers worth it for girls who have naturally curly lashes ?? And recommend any affordable curlers?? Thx loves!