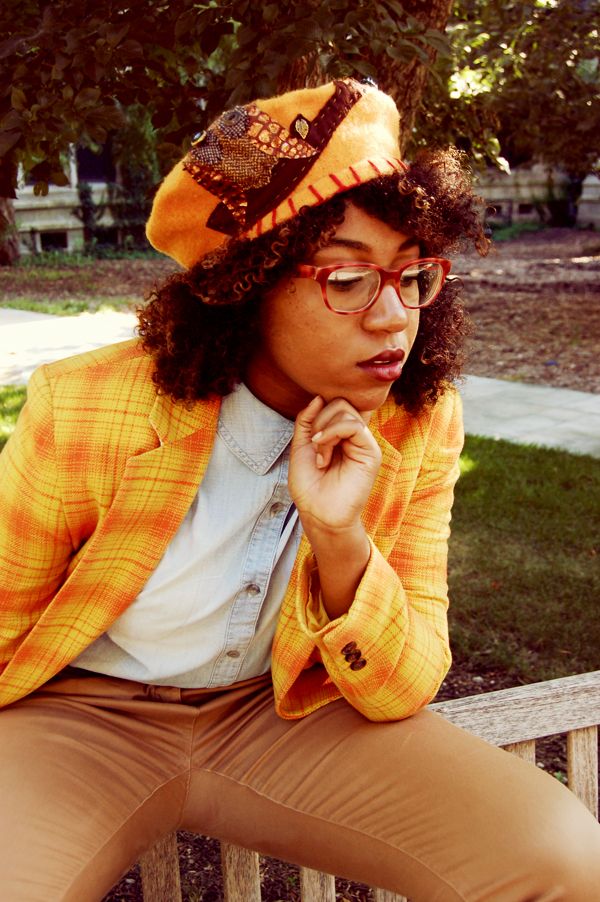 Blazer:

Vintage DKNY


Chambray:

French Connection


High waisted Khakis:

Bershka


Shoes:

F21


Hat: Logan
Tell me this look doesn't scream Wes Anderson to you? I know all of us geeks are tweeking out over his new film. It's like a sigh of relief that one is coming out very soon. With all of our faves, Murray and Schwartzman, and a couple of new kids to keep the Anderson legacy going.
It's hard not to be inspired by Anderson, with his highly detailed sets and wide panning shots. Everything is so saturated and dreamy, it always tugs on your heart strings. But you know who else inspires me? My mother.
This hat, well in fact this shoot was done by my mother, for her Fall 2011 campaign. Now that the online shop is open, and her biggest shows have passed, I can finally show you some of my proudest work. She let me model and be the spokes woman for the 2011 campaign. This particular look was my favorite, and I got to style the whole thing.
My mom had been designing since before I was born. She has been featured on WGN, ABC, The Tribune, Sun Times, and WWD. She has done fashion shows, and has had her work at mega houses like Macy's and Lord & Taylor. More recently she has started a relatively new line called
Logan.
Which is reminiscent of her childhood. Each hat is made from vintage fabrics, such as coats from the 60s, and leathers from the 80s. And made new so that each hat tells a story of its own. I'm really amazed of what my mom does, and I am happy that I can share it with you all.
I convinced her to try etsy,
because she normally does wholesale, so we are crossing our fingers that it goes well. We collaborate together (well the whole family does) all the time, it's truly an honor to have such talented parents.
Check out the site when you get a chance
. Maybe I'll get a coupon code going on her soon so all of you can be extra warm this winter!