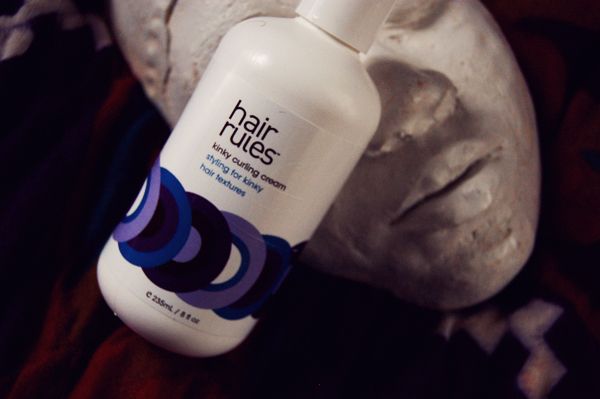 (why yes that is a cast of my face.....)
So remember when I was singing the praises to
Kinky Curly
? Well, those hymns have long ended because I found a NEW LOVE, that is much more enjoyable than Kinky Curly. And it's called
Hair Rules
.
One of my biggest dislikes of Kinky Curly was it made your hair crunchy. And I strongly disliked that feature. I even hated how you needed to buy two products to get the full effect. It weighed down my hair and made me look older. Plus I noticed my hair drying out. That could possibly be noted to being on antibiotics for a whole month, BUT I will never really know. So BUH BYE Kinky Curly, Hello...Hair Rules.
I learned about
Hair Rules
from my ALL TIME FAVORITE video blogger
Taren916
. I've been watching her videos since I decided to go natural, and she's just SO COOL. I mean she lives in Brooklyn has beautiful hair, and is just ADORABLE. Anyways, I noticed she was using a new product that made her hair looks so fab and I wanted to try something new as well. Don't get me wrong. I LOVES my Mixed Chicks, but in the harsh Chicago ultra drying winter I need something a little more....creamier....
So I ran to my local
Ulta
..(in a snow storm!)...and snatched up a bottle. It seemed to not work at first...but after a while I saw my hair TRANSFORM. My hair looked thicker and more natural.I also stopped combing my hair every time I shower but finger combining it instead. It looks as though my hair has grown SO FAST (I did cut it again thanks to Kinky Curly damage :/) Kinky Curly made my hair look manufactured, Hair Rules makes me look as though I wearing nothing at all. AND I LOVES IT. I'll definitely be using this through the winter and spring! The price isn't that bad if you sign up for Ulta's coupons, and you also don't have to wash as often because it holds very well.
I hope to visit
their salon
in my NYC trip next month to her my hair did!!!
Yay for beautiful curls. Yay for
Hair Rules
!!