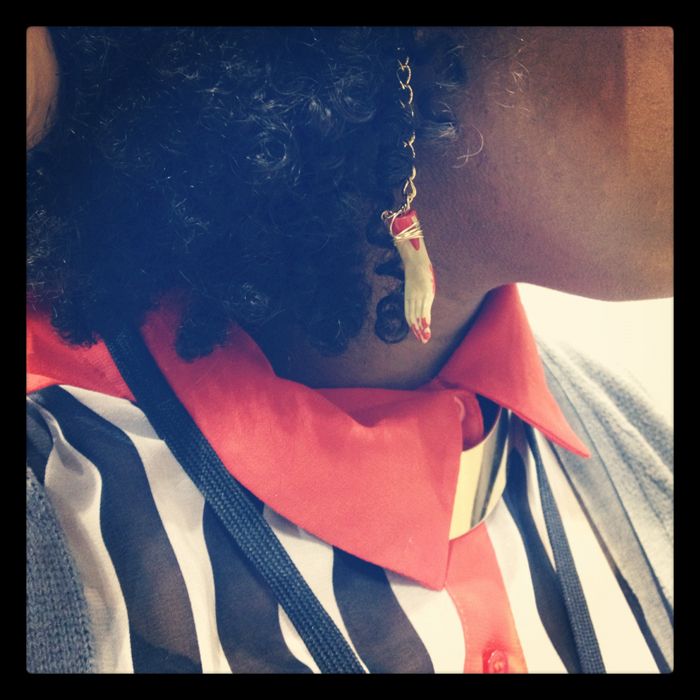 yipes stripes blouse:
nyc boutique
high waisted cropped pants:
french connection
adrian tomine tote:
strand bookstore
belt:
vintage
shoes:
vintage
leather detail sweater:
french connection
earrings:
sincere costumes
glasses:
bonlook
I was at c2e2....which is one of the biggest comic book conventions in Chicago. I think this sorta shows my priorities! But I'm what you call a chic geek, "normal" looking on the outside, all nerd in the center. I love confusing people's expectations of me!
C2e2 was boss this year! Especially with guests like Chris Hardwick & John Barrowman (nerd alert) It's not as intimidating as wizard world, because it almost takes all the hipster nerds in the tri-state area and unites us together. I geeked out, buying back issues of Demo, X23, and my new fave Gotham Girls (which is TOTALLY in the Paul Dini-verse, and I LOVE THE DINI-VERSE) I felt like dressing a little Joker myself, with perhaps a hint of Harley Quinn at the Arkham Asylum. I also bought these super cute zombie Barbie earrings from
Sincere Costumes
, which completed my look for the day. They reminded me how OBSESSED I was with Barbie's hands and feet as a kid (strange, I kno.....) And I literally got compliments all day! Plus they are great with my uber sensitive ears! I also got some extra points by carrying my new summer tote, it's from Strand Bookstore in NYC, drawn by one of my comic book hero's Adrian Tomine. I'll have to get a close up of it later....
All in all, even though I didn't join the rest of my blogging sisters out in the desert (nerd + sun = bad news..lol jk) listening to radiohead in nothing more than a bikini top and a maxi chiffon skirt, I was able to be myself. Doing what I do best..... being weird.
glomps + kisses!