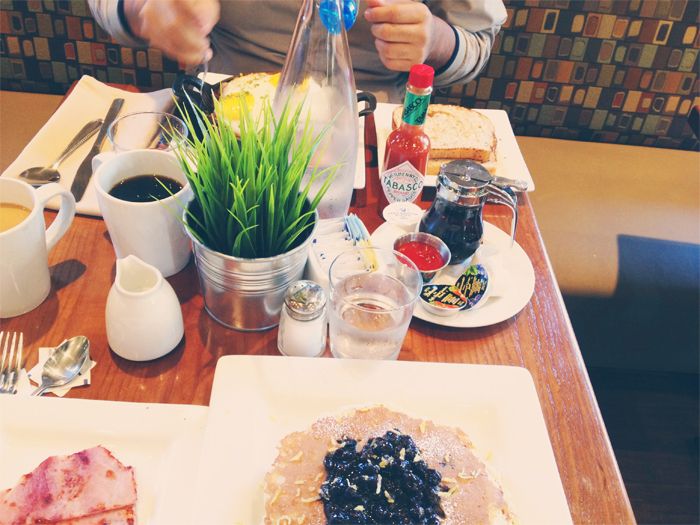 tie:
vintage
blazer:
vintage
chambray:
french connection
polka dot accordion skirt:
vintage
(new birthday boots bought at renegade craft):
vintage
socks:
topshop
I hope you didn't think I was gone for good! I needed my little break, but now I'm back and more inspired than ever. My surgery felt like an apple falling on my head, everything since feels like "eureka!" since....
I know my birthday was a while back, almost feels like a month ago, but I had a marvelous time. Caught up with good friends, ate delicious food, relaxed! What more could a girl want. My favorite part was trying new restaurants. We went to an old Indian food favorite, (dave and I got all dolled up) But I also go to try a new pancake place called STAX. They were yummy yummy, definitely put a stamp in my pancake passport. They had fresh blueberries that probably stained my teeth blue, but it was well worth it. (the lemon zest was an delightful touch!) If you're ever in the city and want to try a new breakfast place, I whole heartedly reccomend.
As always, as the world turns, the weather changes, I feel my style evolving. Always inspired by Nora Ephron, but I have to admit, Laura Holt from Remington Steele is slowing becoming my new obsession. But alas, more on that later.....
(On dave, everything's vintage except for the tie, we bought that in NYC)