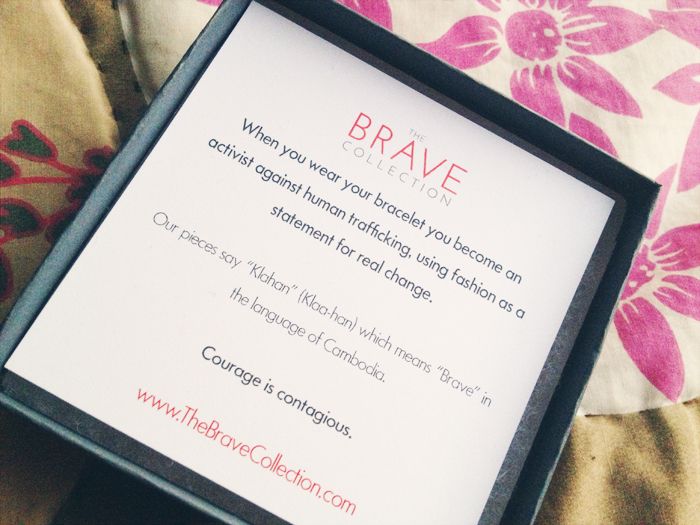 In my previous post I mentioned that I felt brave when I defy critics and follow my heart. Whether that means having grey hairs or auditioning at Second City. I'm try to not let the world get me down. I don't owe them anything nor do they owe me.
But life isn't as simple as it is in the west side of the world. Some people, get caught into situations that we would never wish upon our deepest enemy. When you support
The Brave Collection
, you're helping end the cycle of human trafficking in Cambodia. An issue that plucks at my heart strings and stings like the winter's cold. Being a victim of sexual assault, I know when no, means no, and I would love it if we came together and made our voice strongly heard.
Each bracelet is hand made by fair trade artisans in Cambodia, and is inscribed with the word "Klahan" which means Brave in Khmer; the language of Cambodia. It rings as a reminder of the bravery of the survivors, and the more survivors to come.
I was more than happy to collaborate with
The Brave Collection
, and I hope that you are as excited about it as I am. You can show your support by clicking a
link here
or in the sidebar. Tis the season!